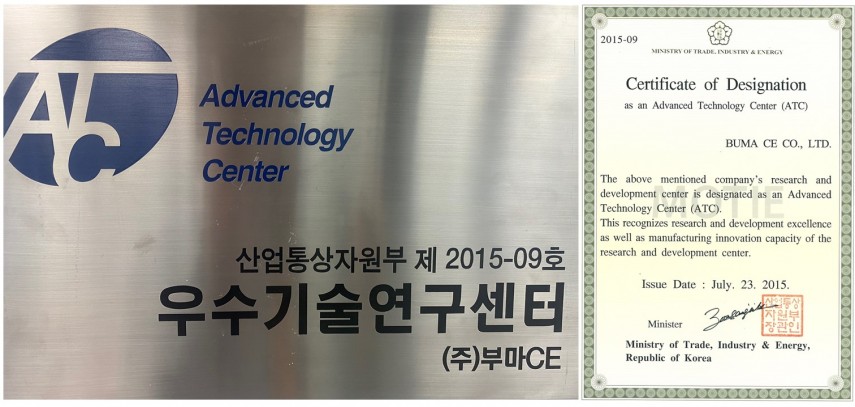 ▲ Ministry of Trade, Industry, and Energy selected and announced 34 research institutes affiliated with small and medium-sized enterprises, including Buma CE, as the Grand Prize for Advanced Technology Center (ATC) business on July 23th 2015. The Ministry of Commerce, Industry and Energy presented the designation letter to newly selected ATC companies at Lotte Hotel in Seoul this morning and held a performance presentation to strengthen technical cooperation between ATC companies.

▲ The ATC project has been in operation since 2003, and 390 companies have been designated so far, including 35 newly designated this year. The government promotes new technology development by providing technology development funds of around 500 million won per year for up to five years to companies designated as ATC.
▲ As a result of this year's ATC project selection, by technology sector, 10 electrical / electronics, 7 information / communications, and 6 machinery / materials were followed. As a result of the ATC performance survey conducted in December last year, 51 of the ATC-supported companies produce world-class products, accounting for 14.2% of all domestic world-class products.
Gwan-Seop Lee, Deputy Minister of Industry, said, "The ATC business is a very outstanding R & D project by the Ministry of Industry, which fosters domestic small and medium-sized enterprises with global competitiveness. We will spare support to continue our growth. "